LeDragonArgente
Regular price
Sale price
$60.00 USD
Unit price
per
Sale
Sold out
A simple handmade raven pendant to grace the throat of anyone, it is solid but beautiful! Available in either .925 sterling silver or antique bronze.
The ravens symbolism is complex. As a talking bird, the raven also represents prophecy and insight. Ravens in stories often act as psychopomps, connecting the material world with the world of spirits. 
Materials:

 available in either .925 sterling silver, a mix of 92.5% fine silver and 7.5% copper, and antique bronze, a mix of 90% copper and 10% tin. Both are free of nickel, zinc, or cadmium, which are common metal allergens, which can cause rashes and sores. For more info on bronze, read the blog post 

https://ledragonargente.com/blogs/news/fun-facts-about-bronze

 or consult my FAQ page 

click here

.

Pendant Dimensions: The pendant is 2.5cm high with the bail and 3.5cm wide and is hollowed out in the back. Perfect for everyday wear.
Shipping info: 

Shipping is with tracking and full insurance. For international buyers, please be aware of taxes and duties are payable to your country and must be paid by the buyer and is not collected by me.

For any questions about my materials, processing time, and more, check out my

 

FAQ

 

for more info!
Many references to ravens exist in world lore and literature. Most depictions allude to the appearance and behaviour of the wide-ranging common raven. Because of its black plumage, croaking call and diet of carrion, the raven is often associated with loss and ill omen.
In later Norse mythology, Odin is depicted as having two ravens Huginn and Muninn serving as his eyes and ears – Huginn being referred to as thought and Muninn as memory. Each day the ravens fly out from Hliðskjálf and bring Odin news from Midgard.
Share
View full details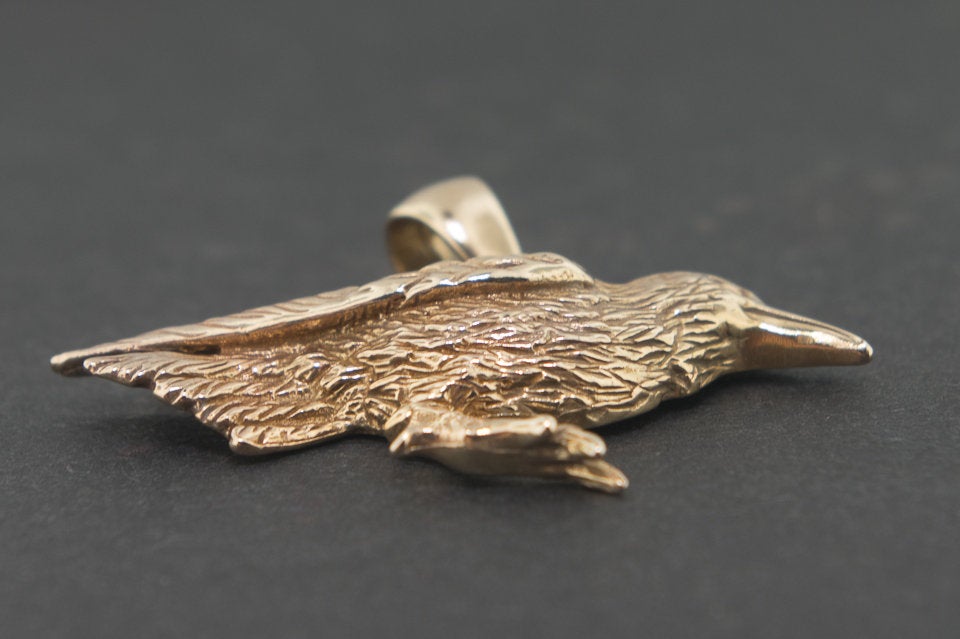 This review has no content.
This review has no content.
Beautiful, thank you so much!
Beautiful, thank you so much!
Beautifully made with intricate detailing,...
Beautifully made with intricate detailing, and safely packaged. I adore it.