Le Dragon Argenté
Regular price
$224.00 USD
Regular price
Sale price
$224.00 USD
Unit price
per
Sale
Sold out
A fan of Howl's Moving Castle and want a matching set of rings for you and the Howl/Sophie in your life, but have metal sensitivities? Want a Howls Moving Castle wedding set for your special day? These handmade .925 sterling silver rings are perfect for you!
The original design was custom requested by a cosplayer who wanted it for his Howl's cosplay in 2017, and I've been making them ever since. They are the most popular ring design I've made to-date, and I have been loving the ability to share them with the world! And now per popular request available in a set! 
And unlike many rings available online, mine are made of solid cast materials and are never plated! I make these for people like myself who are allergic to cheap metals, especially nickel, zinc or cadmium!
Materials:

.925 sterling silver, a mix of 92.5% fine silver and 7.5% copper. Free of nickel, zinc or cadmium, which are common metal allergens, and can turn your skin green!

This set comes with a red imitation ruby for Howl and a blue imitation sapphire for Sophie. The center is set with a 4.5mm faceted/diamond cut Imitation ruby and sapphire set in the center of the ring. 
The band is 6mm wide and has a raised flower patterns on the side similar to in the movie, though depending on the size required it can affect the spacing in the pattern. Can be made in any size from a US size 3 - 16!
Perfect for a wedding set for fans of the anime, or even promise rings! And are made for everyday wear, so you never have to take them off!
So get these rings now to represent a love that is as magical as Howl's and Sophie's!
For any questions about my materials, processing time, and more, check out my FAQ for more info!
Share
View full details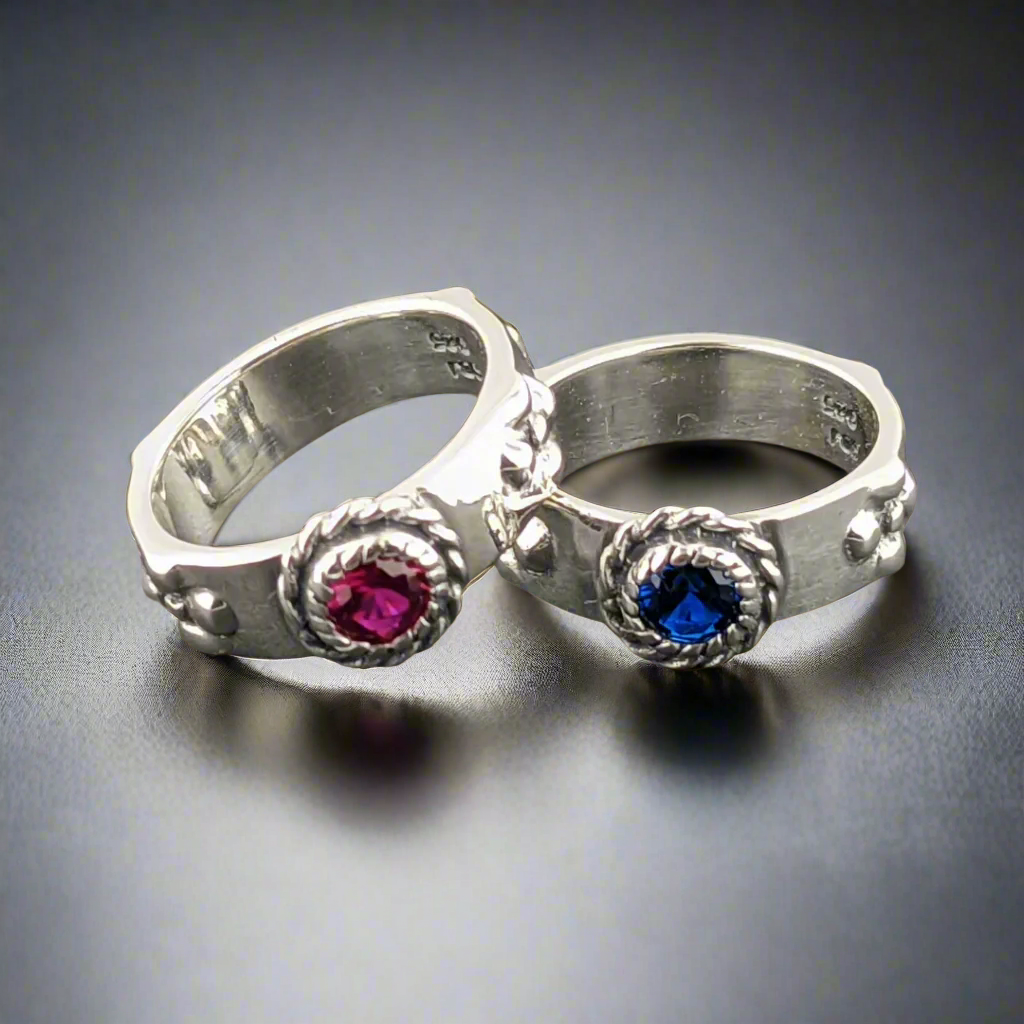 Matching Howl and Sophie Ring Set in Sterling Silver with Faceted Imitation Gemstones
Great rings, sizes were swapped though :(
These rings are amazing, but I ended up finding out that the sizes were swapped when I proposed to my fiancée and wore them for the first time. I ended up having to take them to a local jeweller so they could resize them for us. Other than that, amazing beautiful quality!
Hi there Emily and thanks for leaving a review.
I read it over and was a bit confused. I hadn't recieved any emails about issues with your order, or any help requests from you about any sizings. I'm always happy and willing to help any customers with any issues they have with their orders.
Reviewing your order, the ring sizes you ordered were for the Blue Sophie ring a size 8 and for the Red Howl ring a size 7. Is it possible you accidentally swapped the sizes when you placed your order? And as for fixing the sizes, I have always offered this service to my customers, and they only need to pay the shipping to and from my shop.
If you have any questions, please don't hesitate to contact me any time!
Stay safe and have a great day,
Stephenie
Beautiful rings, came in much sooner than...
Beautiful rings, came in much sooner than I expected. Very satisfied.